For eleven years, America has been waiting for the glorious return of Germany's finest musical export.  There was all of the hype and the anticipation about one US date in New York City's world famous Madison Square Garden and then the sub 30 minute sellout time.  Put simply, this show had epic shoes to fill.  Rammstein took those shoes and filled them with explosives and blew them to absolute pieces.  In over 200 shows and a decade of going to concerts, I have never seen a show that matched the spectacle of what Rammstein achieved.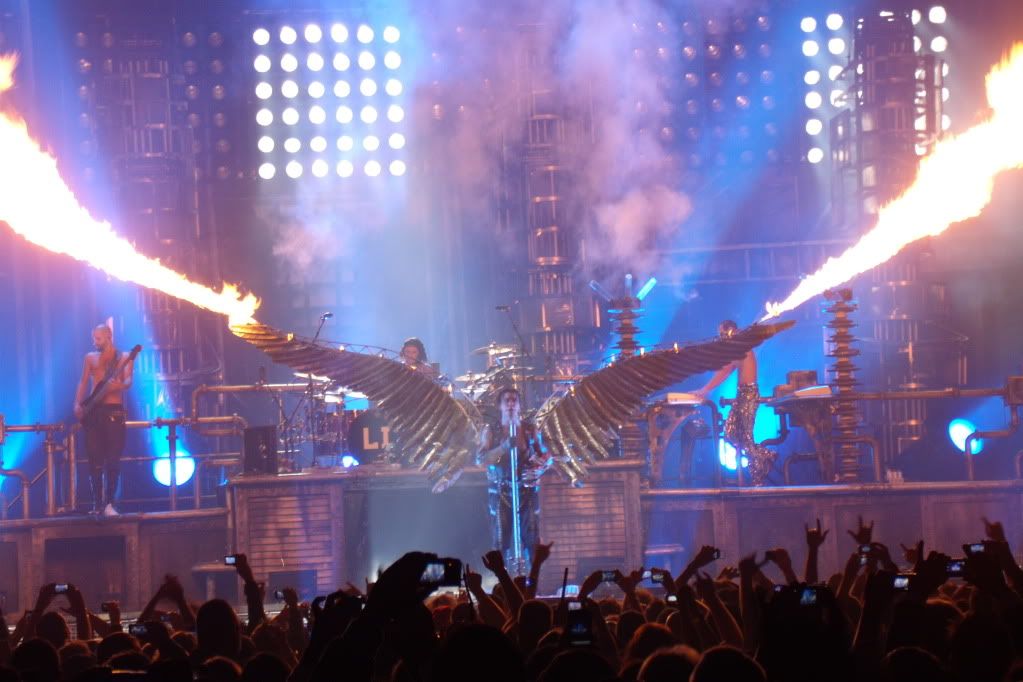 The night opened with Combichrist at 8 on the nose.  They put on a more than solid 30 minute set of their blend of industrial with Wes Borland of Limp Bizkit/Black Light Burns fame in tow.  Wes gives the band a more listenable sound for the metal world and I personally think they should rescue him from Fred Durst and keep him.  Unfortunately if you're here for a thorough Combichrist review, you've come to the wrong place because on this chilly Saturday night, New York City revolved around Rammstein.  From the Kabooz restaurant in Penn Station playing Rammstein all night with a banner welcoming the band outside, to the airports, trains and hotels all flocked with metalheads from all over the world sharing Rammstein stories, this was an absolutely magical return.
At 9:05 MSG went dark, pounding from the sides of the stage erupted as the silhouettes of guitarists Richard Kruspe and Paul Landers emerged pounding through the wall.  In the middle of the stage a perfect oval was cut from the wall.  As the sound of the steel plate hit the stage the crowd erupted to lead singer Till Lindemann.  The night opened with 'Rammlied' and the sound of fireworks.  The crowd was at their mercy for the next hour and forty five minutes.  They went straight into 'B*********' from there and it was apparent that they were just warming up.  'Waidmanns Heil' is when things started getting sexy.  The pyrotechnics were absolutely incredible here with streams of flames being shot off into the shape of W's and Till with his flamethrower. 
'Keine lust' brought streams of steam spewing onto the stage in rhythm to an already great song.  The band stormed through 'Weisses Fleisch' to just a light spectacle that most bands would envy.  Then it was time for 'Feuer Frei' which is when things got interesting.  Till, Paul and Richard were affixed masks which shot flames across the stage in each other's direction leaving everybody floored.  This is the kind of show that people want to see when they travel across the country or in some cases world to see it.  'Wiener Blut' began with mutilated babies shooting green lasers from their eyes and was a full on blue and white strobe light assault which led into more fireworks.  After a mellow 'Fruhling In Paris' and a background change, 'Ich tu dir weh' became arguably the highlight of the night.  The song began right away with pyro and then in the middle of Till's headbanging, keyboardist Flake runs over and kicks Till to the ground.  After the ensuing chase, Flake is carried to what appeared to be a bathtub on wheels.  Till grabs a can and ascends about three stories into the air and begins pouring smoke and fire into the tub until his descent and flake emerges in a sparkling jumpsuit.  After 'Du riechst so gut' where drummer Christoph finally gets a little bit of the spotlight, Till comes out with a gas pump for 'Benzin' which involves him setting a 'fan'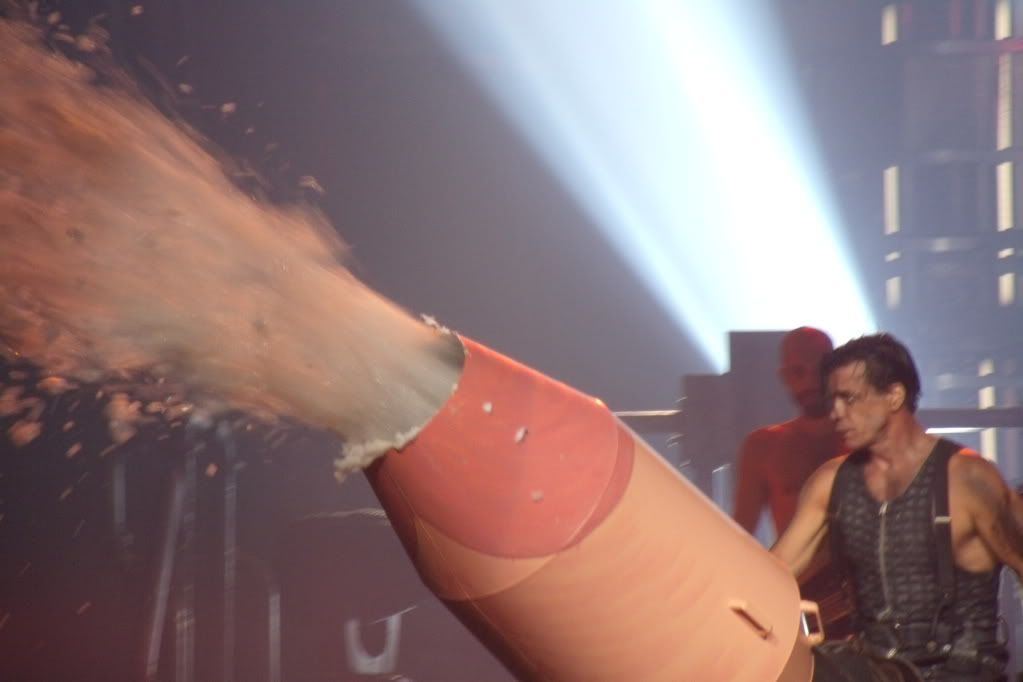 on fire which is pretty much as metal as it gets.  'Links 2 3 4' was a crowd pleaser that had everybody chanting along just in time for 'Du Hast'.  The flames coming from both above and below were nothing short of mesmerizing.  After that was 'Pussy' where Till comes out rolling all over the stage on a giant cum cannon that is a penis shaped and colored foam dispensing machine.  After the confetti, the band goes offstage for their encore.     The band returns with 'Sonne' with columns of flames shooting to the sky as I still stood there speechless as to what I was witnessing.  'Haifisch' begins with Flake riding an inflatable raft through the pit.  'Ich Will' was spot on just like the rest of their set was with multiple fireworks explosions including one grand finale.  Speaking of grand finales, the trademark whistle that begins 'Engel' began to play as Till emerged with a folded set of wings.  As the song progressed, the wings began to spread and eventually smolder.  They then became flame throwers that spread the length of the stage and it was then that we all realized what we were witnessing and how there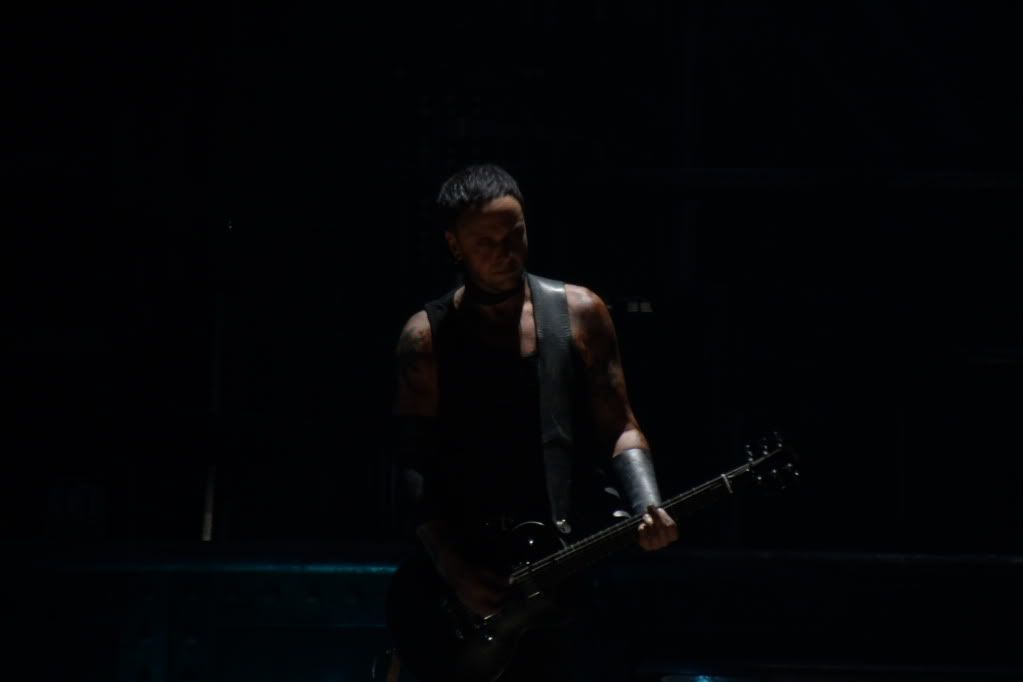 may not be another band in this generation who will ever top the live show this band puts on.  The band took a bow and by 10:50 the night had ended and I was left literally choked up.
Love them or hate them, nobody can take away the show that Rammstein brings to the table when they choose to tour.  We can only beg and pray for them to come back to the states for more than one date next time.  They were worth every penny spent to me and they turned it into a perfect weekend.  If they played one US date a year, I'd turn it into a personal pilgrimage just to witness these shows.  Right now, I'm convinced the only band that can top Rammstein's live show is Rammstein.
Setlist:
Rammlied
B********
Weidmann's Hail
Keine lust
Weisses Fleisch
Feuer Frei
Weiner Blut
Fruhling In Paris
Ich tu Dir Weh
Du riechst so gut
Benzin
Links 2-3-4
Du Hast
Pussy
Sonne
Haifisch
Ich Will
Engel