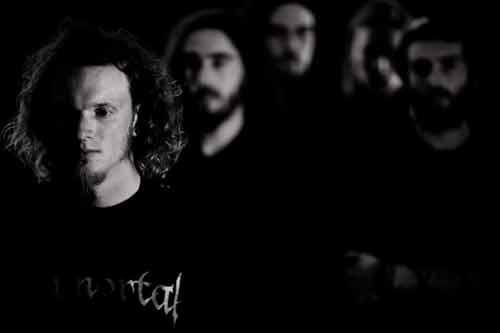 The world may be falling apart, but French metallers Minushuman aren't going to take it lying down, as they are currently recording the soundtrack to a worldwide rebellion. The as-yet-untitled album, and follow-up to the 2008 release "Watch the World Die," deals with themes of rising up and fighting the establishment and the events currently going on in places like Libya and Egypt.
Minushuman guitarist Thomas Billerey and drummer Gaspard Jeanty-Ruard recently corresponded with me about the impending new album, which is set for a June 20th release. The duo discusses writing the songs and lyrics, getting signed to Season of Mist, and the French metal scene in the interview below.
xFiruath: Let's start off with a little history on Minushuman. How long has the band been together and how do the members know each other?
Thomas: Hi there. We've been playing together for a long time now, through different bands and projects, but mainly with the same line-up, except Lionel (guitars) who joined us 3 years ago. It's like we've always been playing together in some way. We started our first metal projects as we were in secondary school with some kind of progressive shit with keyboards in a band called DOM back in 1995. But we all felt the need after a while to express ourselves in a more aggressive way, and add fucking heavy riffs everywhere, so we created Dark Poetry in the summer of '96. We released several demo tapes and a full length album called "An Ugly Little Freak" in 2002, toured quite a lot around France and Switzerland, and had the great chance to open for bands such as Gojira, Adagio, or Samael.
But there came a time, as a composer, when all the music I created was going in a new direction, somewhere I had wanted to go for a while. I came back to the guys after a break in 2007 with new material to explore, and we decided to start Minushuman as a new chapter of our musical journey. We met Lionel at this time, and as he is a kick-ass guitar player and some fucking nice guy, we asked him to join the band. We released our debut album "Watch the World Die" in 2008, and shot our first video for the track "Liquid." We were really stunned by all the positive feedback. Things started to speed up for the band at this moment, we signed with Musica Diaboli Management, got a deal with Season Of Mist, and now have a new record forthcoming in June. Damn this is cool.
xFiruath: For anyone not familiar with Minushuman, how would you describe the sound of the music?
Thomas: We like to call what we're doing "atmospheric thrash metal," but I guess anyone could have its own way to name it. I would say it's kind of a mixture of pain, despair, and will to make people react to the world we're all sharing today, all together expressed with aggressive sequences and more melodic parts. I don't really know why but there's some kind of a liquid feeling to it.
Gaspard: It's also associated with the progressive style. Maybe this is due to our musical roots, 'cause we're not really doing that deliberately.
xFiruath: Is there a title for the new album yet?
Thomas: I think we just found it a couple of days ago. We actually had a first idea, but we changed our minds during the mixing process. Got to get back to the guys to take the final decision all together tomorrow, sorry I can't at this precise moment say really more about it.
xFiruath: How did you guys get hooked up with Season of Mist?
Thomas: We actually worked with Season of Mist for the release of our debut album "Watch the World Die," not as part of the label, just for the record's distribution. The feeling was really good with these guys from the beginning. As we were looking for a deal to release the new album, we got in touch with many labels, and got several options on the table. Season Of Mist is full of cool people, made a big journey from their beginning, got bigger and bigger from one year to another, and are working now with many fucking great bands, and it's a real pleasure to be part of their crew from now on.
xFiruath: Tell me a bit about the album. How does it differ from "Watch the World Die?"
Thomas: We grew up. "Watch the World Die" was a real desperate shout, some kind of picture of the world and its sordid state. From the day we released it to present day, so many things have made the earth suffer more and more to reach a really alarming state. And I think the way you express something in music is totally correlated to who you are at some point. This time, as a composer, I was really in the will to add some kind of "hey guys, we were shouting, now let's go fighting" stuff in the music. I guess the new album is, from this point of view, catchier, more positive maybe. We could say it's a new chapter, but it sucks to say this so I won't.
Gaspard: As far as I'm concerned, I think that it all sounds more "natural" in some way.
xFiruath: What do the lyrics deal with and who writes them?
Thomas: I've always been writing lyrics way before getting to the studio, but this time we wanted to wait 'till the last moment, and get straight to the point. The world was falling down in front of us, with the Tunisian, Egyptian and Libyan revolutions. People from all around the world are waking up, after decades of oppression, and are making a huge step in the human's history. Something absolutely fantastic is happening, some kind of collective intelligence on the way changing the world forever. The album is talking about all of this I guess, through different ways and points of view.
To check out the rest of the article go to http://www.metalunderground.com/news/details.cfm?newsid=65913
by xFiruath