Philadelphia Black Metal Legion Woe Announce West Coast Tour Dates
Source:  PluginMusic.com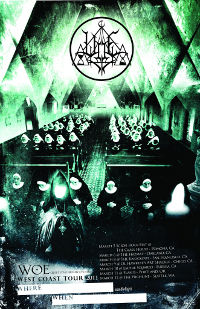 Philadelphia black metal legion Woe have embarked on a rare string of live dates this March. The short trek commenced on March 5 at the Scion Fest in Pamona, California, alongside the likes of Morbid Angel, Obituary, Integrity and Nails and ravage its way around the West Coast before drawing to a temporary close in Seattle, Washington, at The Highline. The festivities will pick up again on the 31st with a hometonw show at Kung Fu Necktie and a spot on this year's MACRoCk fest on April 1 in Harrisonburg, Virginia with Cannabis Corpse, Inter Arma, Withered, US Christmas and more.
Said band mastermind Chris Grigg of the upcoming dates: "Woe is not given to hyperbole so it is with stern, stoic determination that we say we hope those in attendance of our upcoming West Coast performances are ready to have their heads blown the fuck off."
Woe's critically acclaimed Quietly, Undramatically was released in North America on October 12 via Candlelight Records. The full-length was recorded at Gradwell House in Haddon Heights, New Jersey, with additional tracking completed at frontman Chris Grigg's BS1 in Philadelphia. The album is the first to feature a full band ensemble comprised of members from Absu, Woods Of Ypres, The Green Evening Requiem, Infernal Stronghold and Rumpelstiltskin Grinder and continues to reap praise from fans and critics alike.
Said the Washington Times of the record: "Woe's artistry cuts so deep as the band understands the depths of desperation. Their music at times wallows in its own hatred while at others displays optimism that life will improve. It is a satisfying bait and switch because the band knows when to sacrifice betterment at the altar of the bleak." Added MetalSucks, "Woe's punk spirit goes beyond bouts with d-beats and energy to spare. They don't give a fuck about convention, just about stretching what they love to the point where it may not be what it originally was anymore…Undramatic my ass. This is the sound of black metal to come." Metal Underground commended the band saying: "The album has a huge amount of variation, and tacks on enough unforeseen twists to keep even the most jaded metal fan listening for the whole run time. Fans of US black metal need to make a point of keeping up with Woe," while About.com noted, "After the brilliant A Spell For The Death Of Man, Woe puts out another sharp, dynamic black metal album that shows major growth and maturity." Popdose kept it short and sweet: "The USBM scene needs more bands like Woe to take charge and push the genre forward."
WOE West Coast Tour 2011:
3/07/2011 On The Y – Sacramento, CA
3/08/2011 The Knockout – San Francisco, CA
3/09/2011 Ol Hawk Eyes Art Shackle – Chico, CA
3/10/2011 Empire Squared – Eureka, CA
3/11/2011 Plan B – Portland, OR
3/12/2011 The Highline – Seattle, WA
3/31/2011 King Fu Necktie – Philadelphia, PA
4/01/2011 MACRoCk – Harrisonburg, VA