LOST IN THOUGHT Signs with Label plus New Album Info Out Now
Lost In Thought, a progressive metal band from Wales, has signed with Inner Wound Recordings and their debut album Opus Arise is set to go out on April 29th.
Press releases have said that "the band has a wide variety of musical influences, which is incorporated in their music. Combining the elements of progressive rock, symphonic power and melodic metal to create their unique and epic sound. From all these musical elements, Lost In Thought's music consists of both heavy and distinct riffs, large orchestrations, melodic guitar and keyboard unisons, epic vocal melodies, variable time signatures and dynamic ballad sections. "Opus Arise" is definitely a must for all fans of bands like THRESHOLD, CIRCUS MAXIMUS, PAGAN'S MIND and SEVENTH WONDER."
'Beyond The Flames' is streaming online at this location.
Lost In Thought will head out on a one month long tour in Europe supporting DELAIN and SERENITY on April 29th, the same date Opus Arise is released.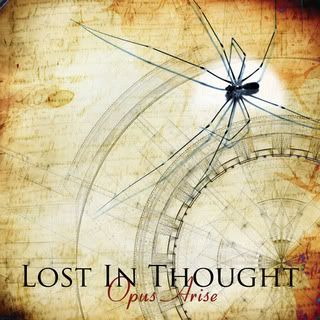 Opus Arise tracklisting;
'Beyond The Flames'
'Entity'
'Blood Red Diamond'
'Seek To Find'
'New Times Awaken'
'Delusional Abyss'
'Lost In Thoughts'
'Assimulate, Destroy'
Lost In Thought live dates:
April
29 – Manchester, UK – Academy 3
30 – London, UK – O2 Islington Academy
May
1 – Glasgow, UK – The Cathouse
2 – Leamington, UK – The Assembly
4 – Strasbourg, France – La Laiterie
5 – Lyon, France – CCO
6 – Barcelona, Spain – Salamandra1
7 – Madrid, Spain – Sala Caracol
8 – Marseille, France – Poste a Galene
9 – Milan, Italy – Alcatraz
11 – Luzern, Switzerland – Schüür
12 – Stuttgart, Germany – Röhre
13 – Aschaffenburg, Germany – Colos-Saal
14 – München, Germany – Backstage
15 – Budapest, Hungary – Diesel
17 – Warsaw, Poland – Stodola
18 – Berlin, Germany – K17
19 – Hamburg, Germany – Knust
20 – Köln, Germany – Underground
21 – Paris, France – Elysee Montmartre