Amon Amarth – Orlando, FL 4/30/11
It's been quite an amazing past half decade for Amon Amarth.  After the first fourteen years of their career being stuck mostly on the devout death metal fan's radar,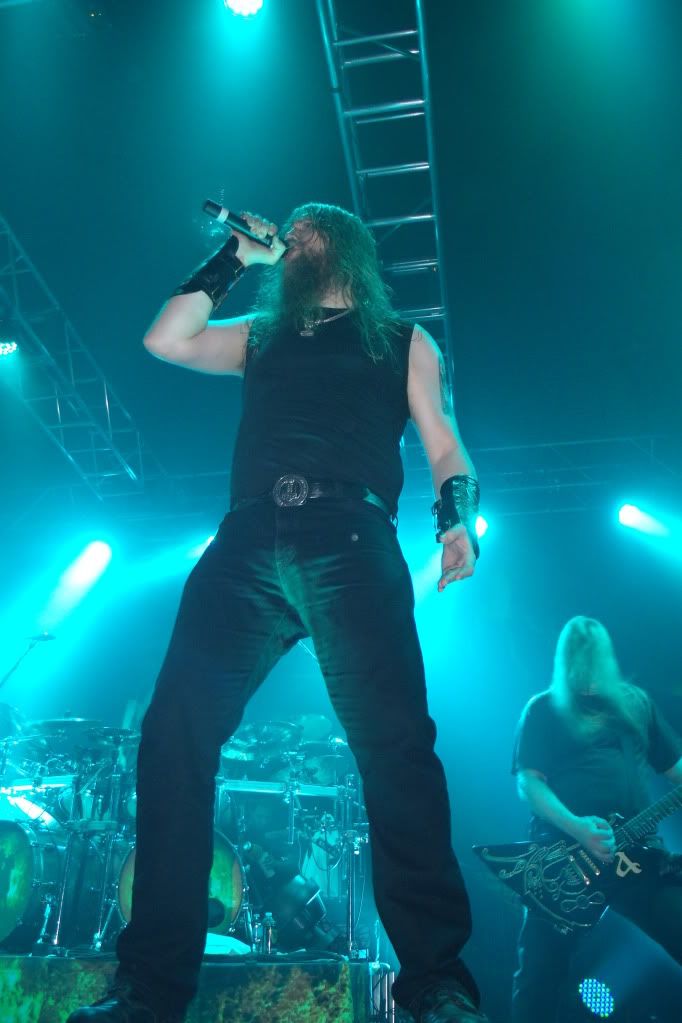 With Oden On Our Side in 2006 is officially when America embraced them as one of the most amazing bands on the planet.  So to go from Oden to Twilight Of The Thunder God landing on the Billboard charts, all the way to Surtur Rising and their own 'An Evening With Amon Amarth' tour in support in a few short years is a pretty epic leap.  To see a venue filled wall to wall with screaming Vikings for a successful night is even more epic.
As of late, the hot trend in metal has been bands playing an entire album of theirs in a set (Helmet, Megadeth, Slayer, etc.) which is pretty awesome, but it leaves you feeling like you missed out on a lot of the rest of the band's history in the meantime.  Amon Amarth decided to up their game and much like the 'Evening With Opeth' six date world tour last year, play an entire album and then come back for a second set spanning their entire career.  To say the show was electrifying is an understatement.  Vocalist Johan Hegg is a fucking warrior who commands an entire crowd as well as any other musician out there.  Everything about him from his large stature to his growl of the beast puts him in charge on the stage.
The first set was the entire Surtur Rising album with a brief amount of talking between songs, because there were a thousand asses waiting to be kicked and Johan and company was well aware of that.  The album performed live was equally as amazing as hearing the masterpiece on the album until the last song, 'Doom Over Dead Men'.  There was something truly special and memorable about witnessing that song live and the bright green lighting blanketing the stage that emotionally is very reminiscent of Down closing their set to a smoke screen during 'Bury Me In Smoke'.
The second set began about twenty minutes later with 'Twilight Of The Thunder God' which had the crowd losing their minds and screaming the epic chorus.  Johan and Olavi were dead on with their (absolutely beautiful) guitars all night, and Frederik Andersson is a ma
chine on the drum kit.  The lighting and smoke was nothing special for the set, but it proved to be just enough.  There was a different color and feel for the lighting of each song that kept the set from feeling like one generic mess that most club shows are guilty of.  The band even went as far back as 'Without Fear' from 1993 before a medley of 'Victorious March', 'Gods Of War Arise' and 'Death In Fire' before their encore.  The evening finished wonderfully with 'Cry Of The Blackbirds', 'Runes To My Memory' and then the sing along of 'The Pursuit Of Vikings'.
If I had to find fault with this show, it would be that it had to end.  This is a set from a band that can continue on until you accidentally snap your neck headbanging or windmilling.  They are energetic, fun, precise and did I mention heavy as fuck?  I am a huge fan of the 'Evening With' shows personally as well since it feels a lot more intimate seeing one band that you love without three to five undercards that you may or may
not give a shit about while waiting for set changes and all just to see an epic band condense a twenty year career into an hour.  This was definitely an evening to remember and goes down as one of the best shows that I've seen.
Setlist:
War Of The Gods
Töck's Taunt – Loke's Treachery Part II
Destroyer Of The Universe
Slaves Of Fear
Live Without Regrets
The Last Stand Of Frej
For Victory Or Death
Wrath Of The Norsemen
A Beast Am I
Doom Over Dead Man
Twilight Of The Thunder God
Masters Of War
Live For The Kill
With Oden On Our Side
Guardians Of Asgaard
Asator
Varyags Of Miklagaard
Thousand Years Of Oppression
Without Fear
Victorious March / Gods Of War Arise / Death In Fire
Cry of the Black Birds
Runes To My Memory
The Pursuit Of Vikings