Well there are a handful of new albums that have just been released that believe it or not, are worth owning!  I know hell might have frozen over when I'm not bitching about the new releases sucking dick like every other week.  As long as you're not picky with your genre of metal here, there is something for the whole family – if your family doesn't suck.  Also, this will be one of seven blogs posted on the internet over the past ten days that isn't talking about the Saudi Santa Claus.
Septic Flesh – The Great Mass
If you were a fan of 2008's Communion from Greece's death metal masters, this is another step in the same direction.  It's even more atmospheric than Communion but just as catchy.  These guys have definitely struck gold musically over their past three albums and are establishing a staying power in the American metal world with this kind of music.  The Great Mass is heavy as fuck but the traditional death metal sound is broken up nicely with music that is reminiscent of something from a first person shooter at times or something that could motivate an ancient tribe for war on the other end of the spectrum.  If you've never heard of this band, this wouldn't be a bad place to start by any means.  'Five-Pointed Star' is one of the many highlights here because much like the rest of the album, it puts your mind in a different place; this song just makes you feel like you're following a serial killer around the corner from the ditzy blonde who is about to take a knife to the throat to the tune of death metal.  The nicest part of this album is you'll be hard pressed to find another one quite like it this year.  It's definitely worthy of some end of the year lists.
KMFDM – WTF?!
A new release from one of the main influences for any industrial rock or metal band out there today definitely impressed me.  WTF?! is catchy as all hell, at times heavy, but more importantly it's a bit closer to their industrial roots with a little added flair from those days.  The opening track 'Krank' is one of those songs that just gets stuck in your head and makes you truly believe that 'KMFDM is the drug for you'.  The problem is the next three songs are equally as undeniably catchy for anybody who even remotely likes industrial music.  'Take It Like A Man' is probably female vocalist Lucia Cifarelli's crowning achievement in her tenure with the band.  The song is all hers and is worthy of any industrial or goth club dance floor.  After 17 official releases, I can boldly make the statement that they have finally perfected their sound.  This has the heaviness of later releases like Blitz while getting back to the refined industrial sound of songs that put them on the map like 'Juke Joint Jezebel' did on 1995's Nihil.
Scar Symmetry – The Unseen Empire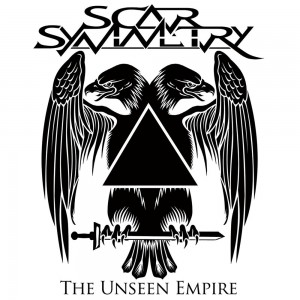 After the first three releases with vocalist Christian Älvestam, it was unknown what 2009's Dark Matter Dimensions would bring with two vocalists now in the fold.  The album was a moderate success because of Roberth and Lars' ability to switch vocals so nicely, but there was still a bit of room for improvement mostly in overall neatness to the songs.  With The Unseen Empire, they seem to have addressed those problems nicely.  There is still room for the band to grow up even more, because songs like 'Illuminoid Dream Sequence' leave me with the feeling that they use two vocalists in an attempt to achieve what Soilwork's Speed Strid does by himself.  Other songs like 'Seers of the Schaton' seem to be better tailored to the two man assault by giving the clean vocals more of a strained power metal approach instead of a stereotypical melodic death metal whine.  There is still a lot of potential on the horizon for this band and this is a quality album if you're looking for something new to listen to.  I'm still very partial to their first two albums, Symmetric In Design and Pitch Black Progress, however this is an album worth putting in rotation.
Norther – Circle Regenerated
I was terrified to give this album a listen to be completely honest.  Former vocalist Petri Lindroos (also of Ensiferum) is one of the most powerful and one of my favorite lead men in the death metal world, and without him I figured I'd hate this album.  While I'm not hailing it as even close to as epic as Death Unlimited or Till Death Unites Us was to me, it's still listenable.  The opening track, 'Through It All' is the closest they come to both the often compared Children Of Bodom sound and the sound of Petri's work.  I will say that I cannot get into 'Some Day' at all because of the clean vocals.  'Break Myself Away' also leans towards the whiny clean vocals that make me wonder if they're looking for mainstream success opening for Bullet For My Valentine in the future.  Those two songs may or may not get skipped on my iPod because it seems to make the album more enjoyable with them omitted.  New vocalist Aleksi Sihvonen is a capable vocalist, but it's just not the same in your face, no bullshit Norther.  Songs like 2006's 'Throwing My Life Away' were meant to be the elitist's savior to the post Hate Crew Deathroll-era Children of Bodom.  I guess the scales have tipped back to the Bodom camp in 2011.