Heavy T.O. Day 1 – 7/23/11
Well it's been an interesting experience flying to Canada for the first time for a show.  I've learned some things about the Canadian culture that is a bit terrifying, but in the end it'll all be worth it.  I also got taken into the immigration office for saying that I drove into Canada alone to see Megadeth and Slayer.  If anybody chooses to come up for the second edition of Heavy T.O. in 2012, there are some things you must know first.  Canadians don't know what sweet or unsweetened tea is, they are fanatical about wrestling still, and I think most of the people that inhabit the downtown area are on drugs.  Also if I'm not mistaken, they aren't required to believe in God here because they just go to the great Tim Horton's in the sky when they take their final dirt nap.  Through my hours of traveling today I've yet to see a single church (this isn't a bad thing), yet I've seen three Tim Horton's on the same street all within walking distance of one another (this also isn't a bad thing).  So all joking aside, was it worth it to fly to another country for a metal show?  The answer: fuck yes. (Be forewarned, it gets media heavy in a minute!)
The day started off promptly and hotter than hell at 1 with a small band called Endast.  They were fairly generic and forgettable.  Sadly enough the highlight of their résumé is going to be saying that technically they opened for Megadeth and Motörhead once upon a time.  One of the weirder things about this festival was the scheduling.  Instead of going by superiority or fanbase when making their daytime lineups, they went straight for a heavy hitter with Devildriver being the first big act of the day at 1:30.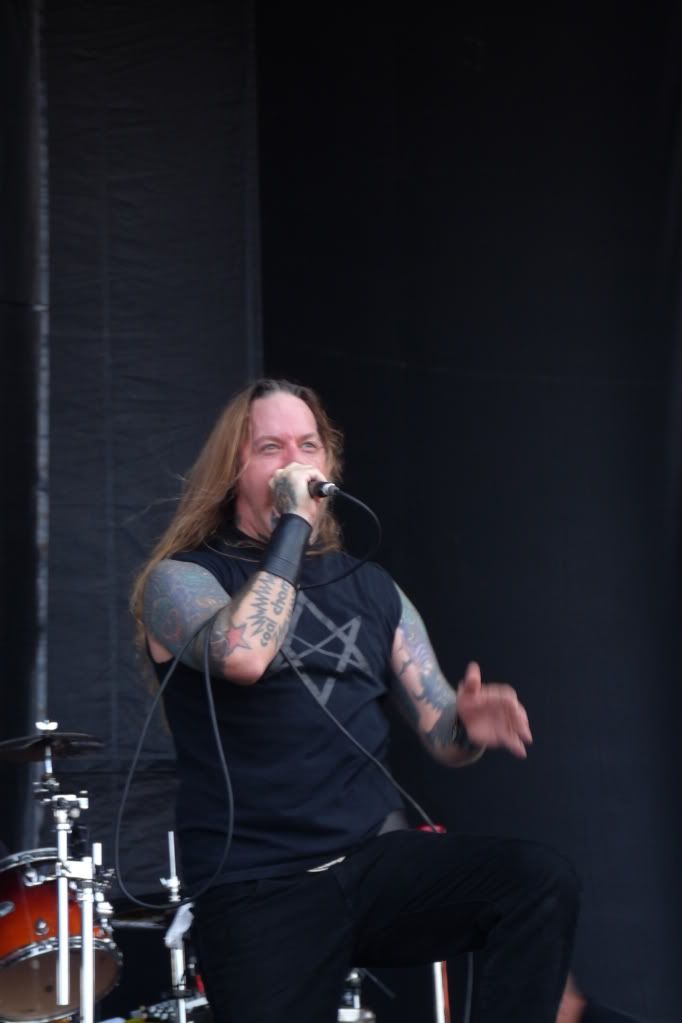 Devildriver was energetic and on their game just like always.  They did their best to get as many crowd pleasers into a short set as possible, with 'End Of The Line', 'Clouds Over California', 'Dead To Rights' and 'I Could Care Less' amongst others.  The crowd was still fairly thin, but those who were there were all pumping their fists or moshing their hearts out at least.  Immediately after them was the reincarnated 2011 version of Diamond Head who were still good, however their biggest savior is still Metallica.  Opening with 'It's Electric' and closing with 'Am I Evil?' as well as 'The Prince' and 'Helpless' thrown in the middle of a six song set works wonders with crowd participation when Metallica has covered all four songs on Garage Inc.   Next was 30 minutes of Christian metalcore straight from the bowels of Florida in Underoath.  They were a questionable choice on the bill since they didn't fit in to the crowd demographic at all.  However, they didn't get booed off stage or sound too terrible, so it could have been much more tragic.
Times Of Grace sounded good and are a nice mix of heavy and melodic for fans of vocalist Jesse Leach's former bands, Killswitch Engage and Seemless.  After that the show went silent for the only time in two days.  The Sword was a no show for their 45 minute slot due to border issues apparently.  It was a bunch of AC/DC played on the speakers followed by the announcement explaining the bad news, followed by more AC/DC.  When the wait was over, it was time for some more Christian metalcore with As I Lay Dying.  While being a band I personally just don't give a damn about, they still hold their own on the stage and at least belonged there whether it's my cup of tea or anybody else's or not.  They blew through I believe 9 songs in those 45 minutes with almost half of the set consisting of songs from 2007's An Ocean Between Us.  At 5 when As I Lay Dying got off of the stage is when business picked up for the rest of the night and the show transformed from awesome to epic. 
Children Of Bodom played a no bullshit, foot to the throat set from the first note of 'Not My Funeral' to the last sing along in 'Hate Crew Death Roll', getting 12 of the 15 songs from their current tour I just saw them at two weeks ago squeezed into an hour time slot.  'Follow The Reaper', 'Was It Worth It' and unfortunately for me, 'Living Dead Beat' were the only three songs that didn't make the cut, however classics such as 'Angels Don't Kill', 'Needled 24/7' and 'Downfall' are here to stay and did a good job at putting the crowd in a frenzy.
The frenzy came just in time for the thrash masters in Anthrax to take the stage and dive right into 'Caught In A Mosh'.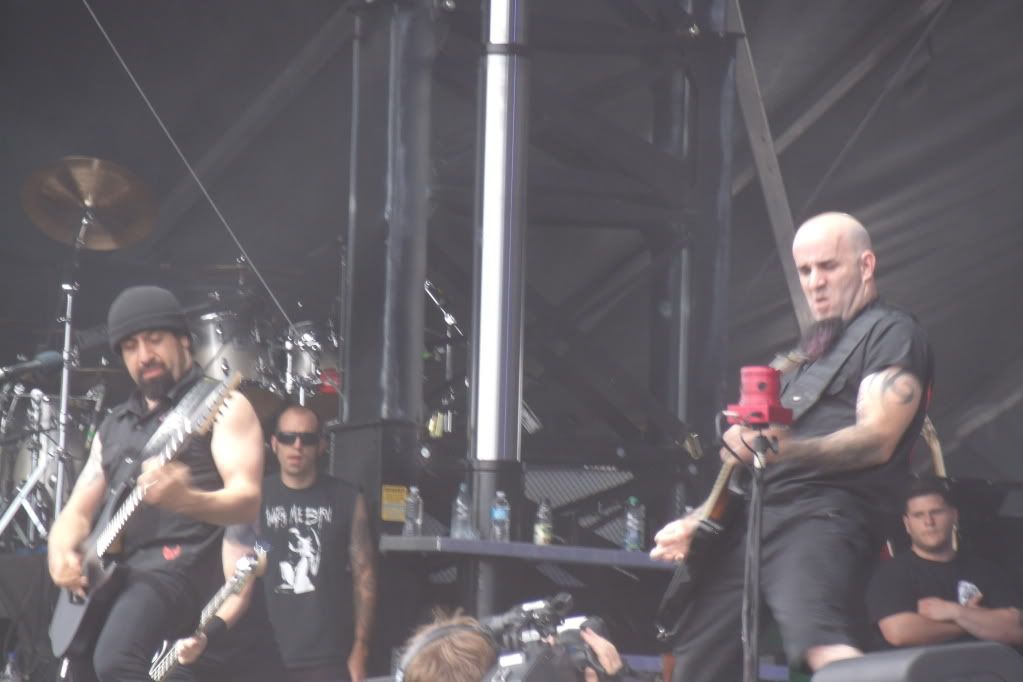 Aside from a couple of obnoxious drunks chanting for vocalist Joey Belladonna's head on a plate because they love John Bush, it was business as usual for Scott Ian and company.  They introduced 'Fight 'Em Till You Can't', the first song released off of their upcoming album to a positive reaction.  Their encore consisted of a 30 second intro to Sepultura's 'Refuse/Resist' as a thank you to Andreas Kisser for subbing for Scott Ian these past few months as he became a father, followed by 'I Am The Law'.
Opeth took the stage to immediate guitar issues with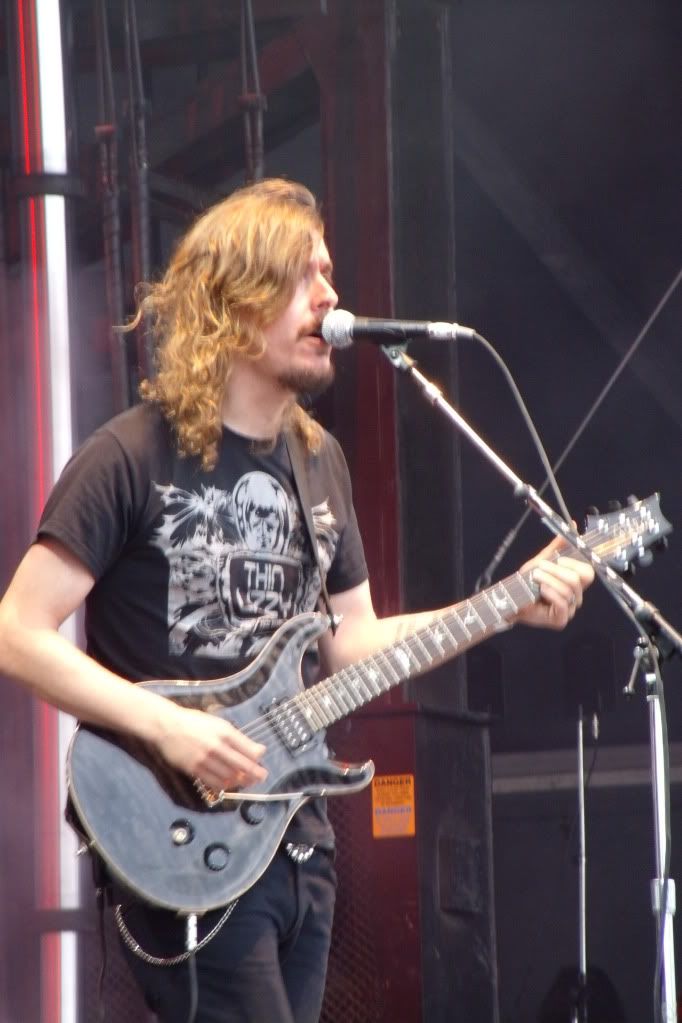 Mikael Akerfeldt's guitar when opening with 'The Grand Conjuration'.  However, technical difficulties are the only thing that can derail the machine known as Opeth in a live setting when every chord and every word is almost perfectly replicated from the studio version of any given song.  The rain then began to fall at times and a wonderful cloud cover came over the park to bring much needed early relief to the day.  Then aside from professing his love to Canadian resident Joni Mitchell and explaining why he'd rather call us cunts rather than the traditional motherfucker that we're used to hearing, they then blew through 'Face Of Melinda', 'The Lotus Eater', 'Master's Apprentices', 'The Drapery Falls' and 'Hex Omega' in record time.
Next up was Motörhead playing in what was at times a heavy downpour.  Lemmy still sounds as scratchy as ever and Motörhead is still plenty loud like always.  No fan was left disappointed with their set as a couple of more recent songs such as 'Get Back In Line' and 'One Night Stand' were played but the majority were older songs such as 'Iron Fist', 'The Chase Is Better Than The Catch', 'Killed By Death' and of course 'Ace Of Spades'.  To close out an already epic day as the rain began to taper off was Megadeth.  The set began with the drum beat of 'Trust' as the rest of the band made their way to the stage with Dave Mustaine wielding his 12 string Dean.  They played more or less a greatest hits set with two songs from their most recent release, Endgame and a new track titled 'Public Enemy Number 1' thrown in.  Like usual 'In My Darkest Hour, 'Hangar 18' and 'A Tout Le Monde' were all there and 'Holy Wars…' closed it out.  The stage was very stripped down compared to a usual Megadeth show and honestly it seemed entirely too short to be a headlining set, coming in at just
70 minutes.  That was kind of a letdown since the festival website showed a set time of 9-11 which turned into 9:30-10:40 instead.  Also there was a post show party downtown (about thirty minutes away) starting at 10:30 featuring The Catalyst, Lazarus A.D. and Gorguts which made no sense if you thought that you would have to leave Megadeth early to catch it all.  However, had Megadeth played at the advertised time of 9 and only played until 10:10, it would have made it possible for people such as me to actually attend the after show.  However, it's not much to actually complain about since it was a hell of a day worth of metal to digest already before getting a couple of hours worth of sleep and waking up to do it all again on Sunday…
Also, in my Saturday adventures, I met a rad as fuck dude named Jason Bass that became my partner in crime for the weekend.  He hosts 'The Meltdown', a metal show on http://www.rock977.ca/ at 11 pm Mountain Time on Fridays.  Keep an eye on the site for those of us who don't live in Canada, to hear exclusive interviews from the festival with artists such as Mikael Akerfeldt, Chris Broderick and more.