Thankfully after an amazing day one of the show, my bed was at least comfortable.  Not much more could be said about my hotel since the front stairs and elevator were covered in macaroni and cheese colored puke by the time I made it back.  That combined with the musty smell of wet dog from a hotel that keeps the heat on in the hallways is always a refreshing kick in the face after twelve hours in the sun.  I knew that I'd need to recharge my batteries and get a much needed shower before I could do it all again on day two.
The day opened with Dead And
Divine.  They were a little bit better than day one's local opener.  Dead and Divine had the metalcore thing down pretty well but at the same time they were nothing overly memorable or groundbreaking.  Then just as day one began with a bang, day two would as well.  The lineup was even more confusing on day two than it was on the first day seeing Exodus at the beginning and Billy Talent(less) as direct support.  Exodus took the stage with the 1:30 time slot to a much larger crowd than the previous afternoon and had two circle pits going at the same time as vocalist Rob Dukes continually mocked the left side pit throughout their 30 minute set.  'War Is My Shepherd', 'Bonded By Blood' and 'Toxic Waltz' were all fan favorites that kept the crowd stirring nicely.
Keeping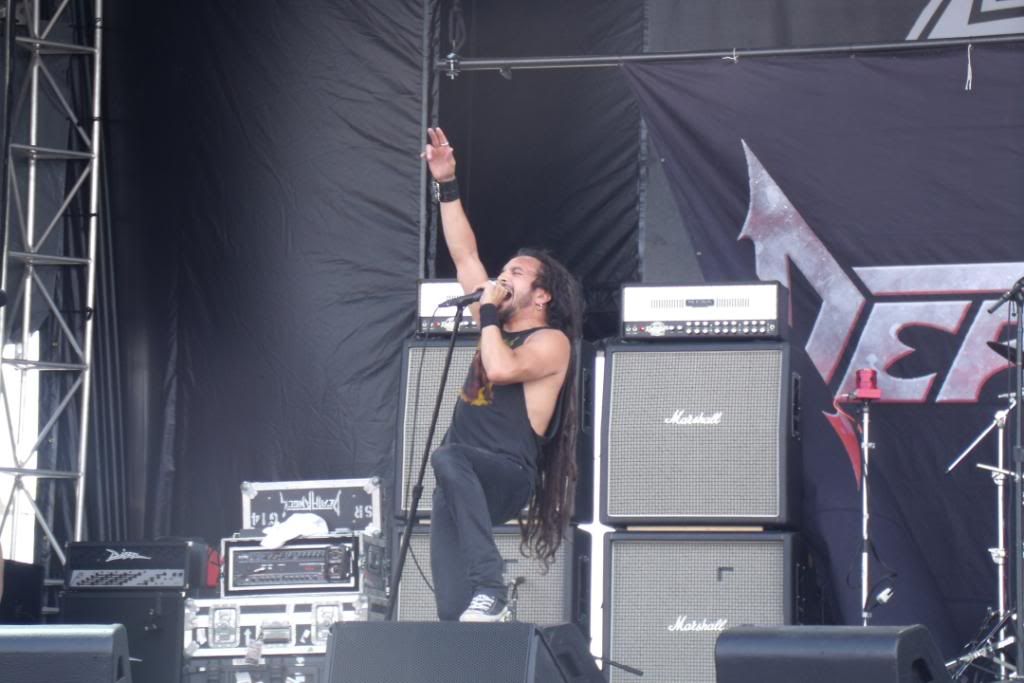 with the Bay area Thrash, Death Angel started almost immediately as the final note by Exodus was played.  The sun was beating down during Death Angel and it felt the hottest that it had been in two days right then, but they still kicked major amounts of ass and makes you wonder why they aren't exponentially more relevant.  They played about 7 minutes over into Volbeat's time slot, which was about to become one of the very few letdowns of the entire weekend for me.  The set opened with 'The Human Instrument' with lead guitarist Thomas Bredahl noticeably missing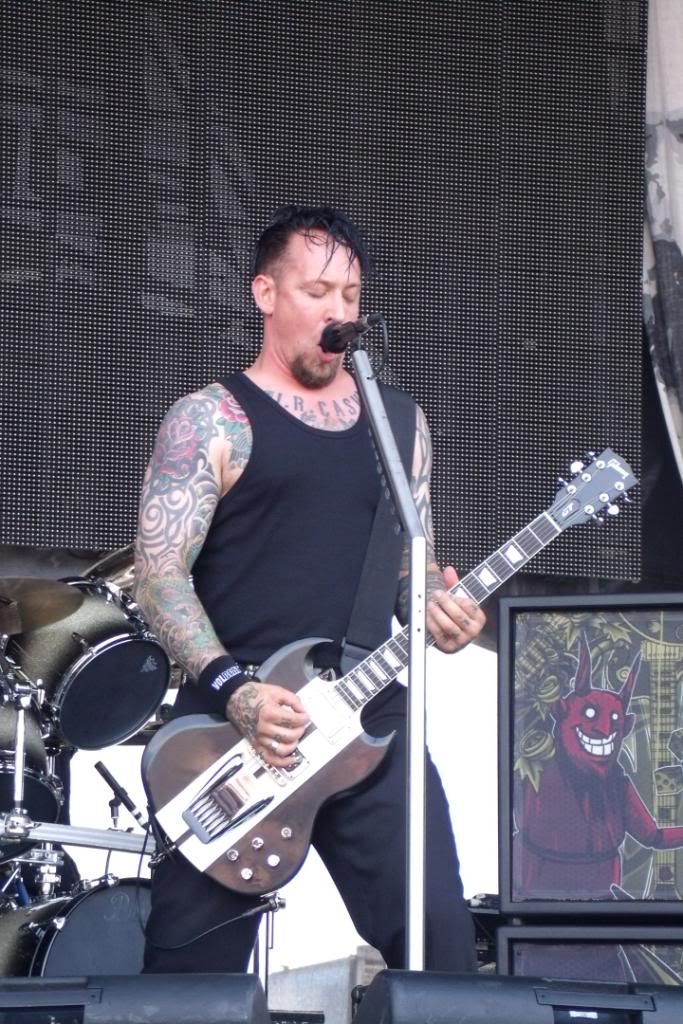 from the fold.  The band went on to 'Guitar Gangsters & Cadillac Blood' with that extra kick in the ass of two guitars missing.  It was then that vocalist Michael Poulsen explained his absence being due to a felony that wouldn't let him into Canada but they weren't going to cancel.  A guitar tech came out to lend the acoustic guitars to the intro of 'Sad Man's Tongue' before the set went down the shitter.  What sounded like God awful feedback in the guitar wrecked the sound and made it pointless to as much as palm mute the guitar without feedback loud enough to make your ears bleed.  After struggling through 'I Only Wanna Be With You' and 'Pool Of Booze, Booze, Booza' they abruptly ended their set much to the dismay of the crowd.
That cleared the way for Melissa auf der Mar.  Most metalheads would say "Who?" since she's famous for playing with Hole and then briefly The Smashing Pumpkins.  That made it even more confusing seeing her in this time slot and it became an opportune time for many people including myself to find their way to the concession stands.  Her voice over the loudspeakers was entirely too screechy to really enjoy and I used that chance to walk to the farmer's market across from the media tent for a smoothie – where her voice could still be heard somehow.  Next up was Anvil who were always a gimmick to me anyhow since their documentary was released in 2008.  They played 45 minutes worth of material, with half of it coming from the Metal On Metal album with the title track and crowd pleaser closing out the set.  It is safe to say that time has not been kind to the voice of Lips.  While some bands like Motörhead embrace and rock the hell out of scratchy voices, Lips just sounds like he's running out of gas.
Business picked up after that however.  The local Ontario boys in Baptized In Blood were hands down the biggest surprise of the weekend.  While I was baffled at their time slot since they are relatively unknown outside of only deeper metal circles, they were fucking brilliant live.  The band brings the high energy show of a band like Unearth with the precision of a band that's been in the game for many years beyond their time.  From the opening track of 'Sinking Ships' to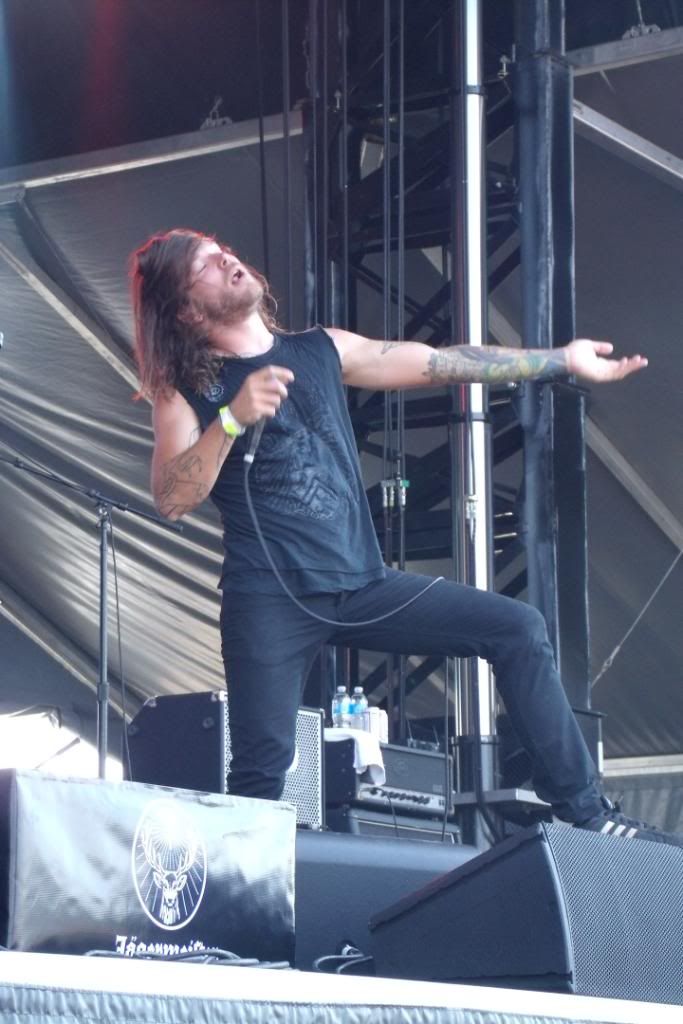 'Up Shirts, Down Skirts' devoted to the ladies, they were spot on throughout and deserving of a lot more recognition very soon.  Testament's intro began to play just as the Baptized guys were leaving the stage.  Testament was very much on the top of their game for their one hour return to Toronto surprising even me.  Having seen them twice before and thinking they were good but nothing out of this world in the past, they exceeded all expectations with their set.  'Over The Wall' kicked off the show followed by 'The New Order' and 'More Than Meets The Eye' off of their most recent release, The Formation Of Damnation.  A few more classics were tackled head on including 'Souls Of Black' and 'Into The Pit' before closing the set with another recent track, 'The Formation Of Damnation'.  It's safe to say I was thoroughly impressed with them on this night.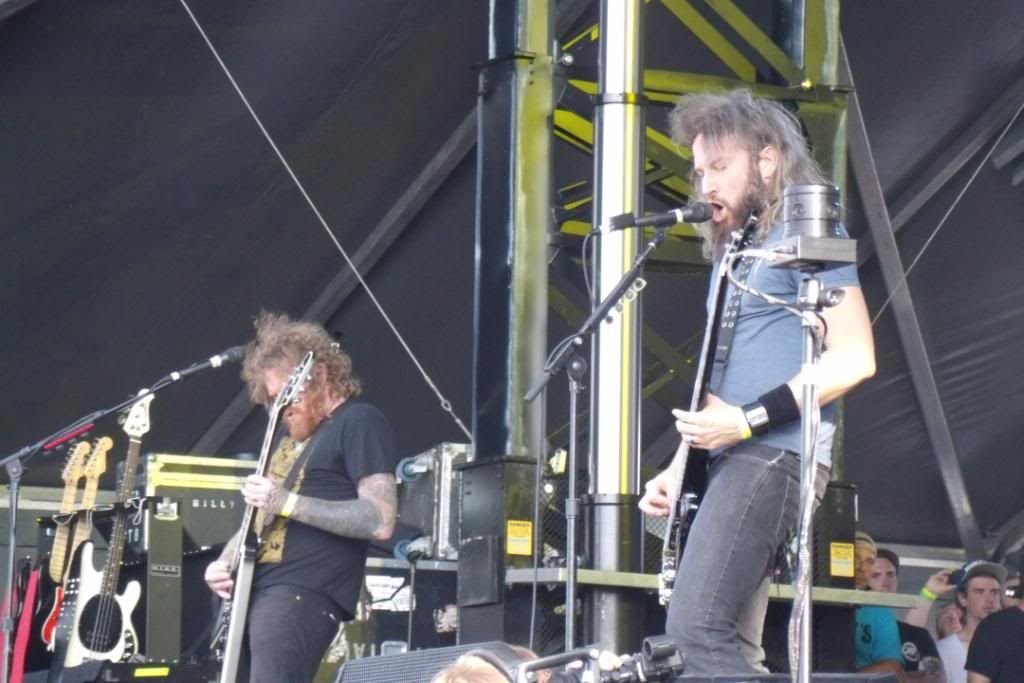 Mastodon came on to a heavy ovation and a loud chant before going to almost dead silence during their intro with 'Iron Tusk' as the first lick of the evening bleeding right into 'March Of The Fire Ants'. As per usual, their name is more than fitting as they are always a beast of a show that always seem to find a way to fire on all cylinders even when it appears that Brent Hinds may have had too much of the special Kool-Aid at any given time.  I was surprised that of the 13 songs I believe they played, nothing was from their upcoming album The Hunter.  However, with a great mix of songs from Blood Mountain, Leviathan, Remission & Crack The Skye, I was in absolutely no position to complain about their decision.
Next it was time for the almighty Slayer.  They appeared to be the biggest draw of the en
tire weekend based on t-shirts and the insane crowd reaction to their set.  Slayer was not one to disappoint either.  With Exodus guitarist Gary Holt still filling in for the injured Jeff Hanneman, I actually enjoyed them more than I have in the past.  I know it's a sacrilegious thing to say that may or may not get me crucified more so than anything else offensive I've ever written on here, but I think that Gary is a better, more technical guitarist than Hanneman or Kerry King, and his presence makes the band better live.  Throughout the entire set King and Holt swapped riffs and shred sessions just like Mustaine/Broderick the night before, however 8 times out of 10 I think that Holt just sounded more powerful and even overshadowed Mr. King a time or two.  Their night opened up with 'World Painted Blood' and then 'Hate Worldwide' before tapping into some goodies with 'War Ensemble', 'Postmortem' and plenty more from Seasons In The Abyss, Reign In Blood & South Of Heaven.  'Angel Of Death' was the closer as usual which just left fans wanting more especially with what was on the horizon…
Billy Talent.  Seriously folks, Billy fucking Talent.  Alternative rock on most days, pseudo punk rock, other days, wannabe post-hardcore when trying to woo a bunch of drunk Slayer fans trying to figure out what the fuck you're doing playing after their idols.  The coolest part of the whole situation was how at least 1/3 of the crowd just seemed to turn around and leave when they took the stage, making traffic a breeze later on in the night.  Maybe it was the most clever anti-congestion tactic ever and we'll never know?  Throughout the day the park was littered with anti-Billy Talent signs including my favorite: 'Remember When Billy Talent Was Metal?  I Don't Either.'  To their credit, they endured their 75 minute???!!! set of being heckled and having things thrown at them while namedropping bands like Mastodon repeatedly.  At least business was about to pick up…
…After the four Johnny Cash songs were played as the original 9:00 start time then became 9:30.  I was half tempted to stay for a couple of songs, shoot some quick pictures and go back to my hotel.  As soon as the lights went down and the
giant robot lit up and the stage set on fire, I knew that I was staying for this.  The night opened with 'Jesus Frankenstein' which honestly is a stupid, monotonous song.  However the pyro combined with the rest of the stage show made it forgivable.  There were a few questionable songs on the setlist that were all forgiven due to the coinciding stage show.  The giant alien machine and the drum set shooting off the laser pyro even had a way of making 'Mars Needs Women' not suck.  I was pleasantly surprised to see the inclusion of the White Zombie track 'Super-Charger Heaven' on top of the obvious mainstays of 'More Human Than Human' and 'Thunderkiss '65'. Zombie turns his entire set into a performance just as you'd expect from him these days as he's drifted away from music and more towards movies anyhow.  Sure, it's a more glamorous version of what Alice Cooper did 30 years ago, but it has the Zombie twist tied in to it.  At times the set is cheesy as hell with the chorus being flashed on the stage for a giant group
sing along but it's always fun regardless.  'Thunderkiss '65' turned into Zombie walking down the aisle in the center of the crowd with his spotlight and lunging into the crowd a couple of times after having his hair pulled.  After that, Zombie and crew returned all sporting Canadian colors for a full on assault with 'Dragula' and then returned again for 'Never Gonna Stop'.  As most of the crowd shuffled out for presumably the end of the night, Rob returned to say that he was coming back for just one more with 'Lords Of Salem' since the band would be gone for a long while after this so he could film his new movie.  It was far greater than what I expected from him as well. Even though I know he's quite the entertainer, I didn't expect him to still pull out all of the stops for a festival appearance.
By the end of the weekend I smelled awful, a bit sun burnt, in love with Tim Horton's (except for the ones that don't take Visa), and pissed off about buying gas by the liter.  As I woke up three hours after getting back to my hotel just to drive to the Niagara Falls airport and get fucked with by the border patrol yet again, I had to decide if the time and money spent was all worth it.  Without a doubt the answer was a resounding hell yes, it was definitely worth it.  I very much look forward to doing exactly the same thing again next year, just with a nicer hotel and hopefully less border issues next time.  I'll definitely be rocking out with Jason from 97.7 again next year and I promise to organize some interviews this time.  Also I would like to publically thank Andrea and all of the other fine people at Live Nation Canada for all of their help with the media thing for the weekend.  It made life a million times easier and less stressful having at least one thing completely organized in my first international adventure of many to come.  It also means that the countdown for Heavy T.O. 2012 begins now…