MESHUGGAH Listening Party Pics!!
Members of Zappa, Fear Factory, Forbidden, Serj Tankian/Juliette Lewis, All Shall Perish, Hammerfall, Malevolent Creation, World Under Blood, and representatives from DRUM! Magazine, Bass Player Magazine, Ibanez Guitars, Warwick Basses, Vic Firth, Sabian, Sonor, Evans, Trick Drums, Shure Microphones, Toon Track, Line 6, Scion and others were among those present at the Meshuggah Listening Party held at The Slidebar Rock'N'Roll Kitchen (owned by guitarist Jeremy Popoff of LIT) this past Thursday, January 19th in Fullerton, California.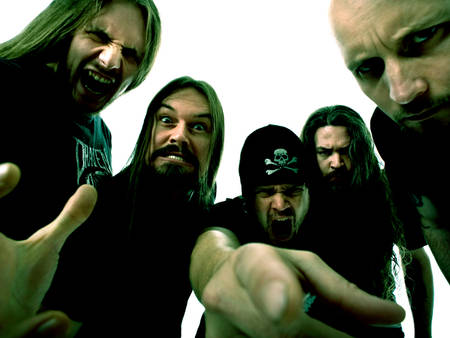 Meshuggah drummer Tomas Haake, guitarist Fredrik Thordendal, singer Jens Kidman, and bassist Dick Lövgren flew in from Sweden to attend this very special event held in their honor. The evening's guests were the first people in North America to hear the ten new tracks that comprise Meshuggah's eighth studio album, Koloss.
View photos from the listening party on Nuclear Blast's Flickr page here. View the slideshow version here.
Koloss is scheduled for North American release on March 27th and features 3-D artwork created by Luminokaya.com. The track listing for the jewel-case version of KOLOSS is as follows:
01 – I Am Colossus
02 – The Demon's Name Is Surveillance
03 – Do Not Look Down
04 – Behind The Sun
05 – The Hurt That Finds You First
06 – Marrow
07 – Break Those Bones Whose Sinews Gave It Motion
08 – Swarm
09 – Demiurge
10 – The Last Vigil
The North American deluxe digi-pak version of Koloss will include a bonus DVD.
Sign up here to receive the latest information on Meshuggah's new album.