Another Rambling From A Crazy Metalhead: News Brought To You …By An Asshole
Well for all of the metalheads out there, you haven't missed much relevant news lately.  Things have been as dead as Trayvon Martin lately.  Too soon?  Sorry.  Wait, I'm not.  I know I'm not the only one to notice that everyone has jumped on the whole 'Poor Trayvon, Zimmerman is a murderer' bandwagon.  It's almost as bad as how many people became Johnny Cash fans as soon as he died.  But hey, I would have shot him too, just to watch him die (of course).  So I'll do my best to summarize what there is of the news as best as possible.
Deicide's Glen Benton is the latest to jump on the anti Dave Mustaine bandwagon going as far as calling him a 'prolapsed rectum'.  For as huge of a Megadeth fan and as little as I honestly care about Deicide, he is right.  The dude needs to keep his mouth shut and play guitar.  Backing Rick Santorum makes you sound like a jackass.  Really the only thing that matters to me out of the whole thing is that I want to see people at Megadeth shows with Photoshopped signs of prolapsed rectums with bright orange curly locks on top.
Bush's Gavin Rossdale has come out and called tabloid readers 'sour parasites' for reading into his sexual exploits and compiling how much better Gwen Stefani can do.  If he has unzipped his pants even once in the presence of Courtney Love as he allegedly has then he knows all about parasites a lot nastier than tabloids will ever match.
The Darkness is opening for Lady Gaga in Europe later this year which isn't really news.  It just leaves you to wonder if in fact Lady Gaga has a bigger penis than lead singer/Led Zep wannabe Justin Hawkins does.  My bet is yes she does.
Guns 'N Roses are being inducted into the Rock 'N Roll Hall Of Fame this month.  However, Axl is still too much of a douchebag to put his differences aside with Slash for twenty minutes in appreciation of the legions of fans who once upon a time unknowingly fed the egotistical beast and bought Appetite For Destruction.  Who knew they could continually make shittier music as time progressed and still ride that lone masterpiece to the Hall?  But at least they made it in before Motörhead, Rush or Kiss…
Kiss has sunk as low as performing on 'Dancing With The Stars'.  They should have titled that episode 'Singing Along With A Band That Once Were Considered Stars'.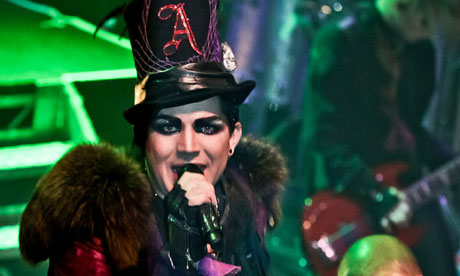 Speaking of pissing all over a legacy, Queen have announced four European dates with Adam Lambert on vocals.  Unlike the internet trolls, I don't care that the only thing Lambert and Freddie Mercury have in common is their common enjoyment for things lodged in their pooper.  Sure, he will have the flamboyancy on stage that Paul Rodgers will never have, but he will never have the vocal ability or talent of either him or Freddie.  The only way something good could possibly come out of this would be if Lambert grows a sweet mustache in tribute that the 'Glee' watching gay community fully embraces and emulates making them all look identical to the hipster community.
Puddle Of Mudd front man Wes Scantlin has been arrested on felony cocaine charges.  Since it's hardly his first run-in with the law, he might be somebody's bitch behind bars for a few years in the future.  I do feel bad for his cellmate in that case, because I once listened to his voice for almost 40 minutes while waiting to see Alice In Chains and I wanted to slit my own throat with a rusty spoon.  So a potential of five years in his presence would drive me to hanging either him or myself from the top bunk.
Sticking with the topic of untalented has beens and cocaine, the head douche of one of the worst 'bands' to have ever graced the Earth was in a week long coke induced coma.  Crazytown 'vocalist' Shifty Shellshock (I'll give you a minute to regain composure at how fucking stupid his name is) realized it only takes a little bit of cocaine to kill you when you have a brain the size of a walnut.  It's pretty amazing that after years of bottles full of piss, shoes and anything else at the venue that wasn't nailed down being thrown at his head, the cocaine didn't finally do him in.  Maybe God looks at people like Shifty as if he is the sock that teenage boys keep under their mattresses.  Sure, you could just throw them away once you think you can't fit any more semen inside, but inevitably another perfectly good sock would have to take its place.
Well hopefully next week will bring more interesting things to complain about or at least to mock.  In the meantime, I'm going to try getting rich.  Remember how people used to find Jesus in their grilled cheese sandwich and tried selling it as a religious relic once upon a time?  After lunch at the Mexican restaurant today I found something in the toilet with a striking resemblance to Whitney Houston.  To add to the authenticity, it had even drowned face down which I feel will help my cause in fetching $10-20,000 dollars for this piece of pop culture history.  Wish me luck.