DILANA returns to Saint Rocke next Thursday night, May 30th **$10 Tickets !!!**
***
$10

Discount Tix Available

(See Details Below)
***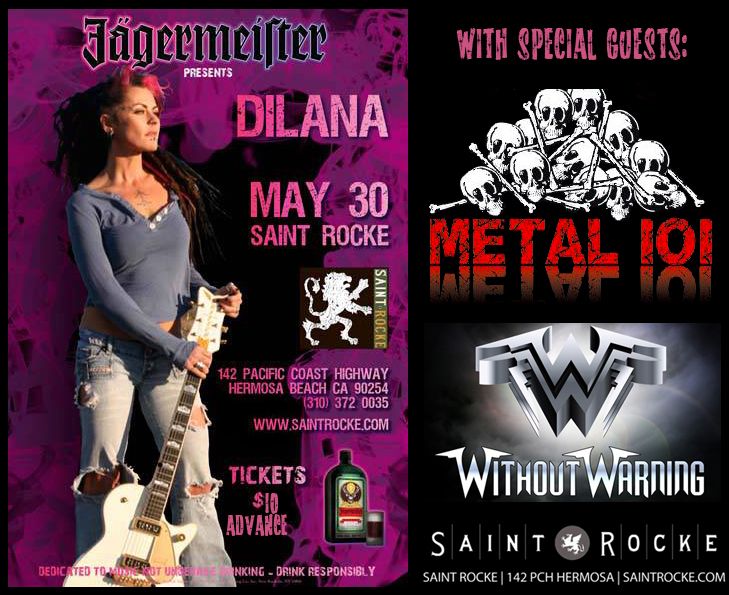 Saint Rocke

presents, as
"Mr. 80's"… Julian Douglas
is proud to welcome to the South Bay,
The "Runner-Up" of
RockStar: SuperNova
has become one of the great female voices since, performing with an endless list of rock legends, Dilana returns to

Saint Rocke

for this intimate, yet rocking show.
The O.C.'s most popular hard-rock cover band.
WITHOUT WARNING
The South Bay's premier rock cover band.
Discount Tickets available In Advance for only $10.00 (No Service Fee Added), that's 33% off… just use Promo Code… mr80s

(lower case)

at:
(I will not have any Guest List !!!)

142 Pacific Coast Highway,
Hermosa Beach, CA 90254. (310) 372-0035.
Doors open at 8:00 PM. Show at 9:00 PM.

21 and over.
I hope to see you once again for this

Totally Awesome

night,
🙂 "Mr. 80's"… Julian Douglas
_____________________________________________________________________________
***

Rad

Upcoming Shows at SAINT ROCKE

***
Sunday,

June 23rd

, 2013 –

BIG COUNTRY
Saturday,

June 27th

, 2013 –

GARY HOEY
Saturday,

June 29th

, 2013 –

THE SPAZMATICS

(a tribute to the New Wave 80's)
Wednesday,

July 3rd

, 2013 – "

4th

Of

July

Party

" with 

THE SPAZMATICS

(a tribute to the New Wave 80's)
Friday

,

July 5th

, 2013 –

JACK RUSSELL'S GREAT WHITE
Tuesday,

July 9th

, 2013 –

TODD RUNDGREN
Thursday,

July 18th

, 2013 –

THE FIXX
Saturday, 

August 3rd

, 2013 –

THE SPAZMATICS

(a tribute to the New Wave 80's)
Saturday
,
August
17th
,
2013
–

THE ATOMIC PUNKS

(a tribute to early

Van Halen

) &

MOTLEY INC

(a tribute to

Motley Crue

)
Saturday, 

September 21st

, 2013 –

THE SPAZMATICS

(a tribute to the New Wave 80's)