Top 10 of Thrash Metal
Inspired by DJ Outkast's recent Thrash/Cross-over Top 10 on Braingell Radio, I've decided to compile my own list (with handy YouTube links for your viewing / listening pleasure).
The only real difference is that I've not gone in for any of that cross-over nonsense (mainly because it was making the list really difficult to compile).
Anyway, hopefully I've included some true classics as well as some less well known examples of all that is great about Thrash Metal.
So, here goes…
10. Sacrifist – Dark Angel (The Well of Sacrifice, 2004)
Sacrifist are a South African Melodic Death Metal band, but along with the snarling vocals, 'Dark Angel' has real thrash metal credentials. Unfortunately, I can't find this song online anywhere, so you'll have to take my word for it. But you could do worse than looking up the band: http://www.sacrifist.com/
9. Sodom – Agent Orange (Agent Orange, 1989)
The title track from the best selling German Thrash Metal album in history. Still touring, and still cited as an important influence by the new generation of Thrash bands, Sodom's place in history is assured.
Live at Wacken: http://www.youtube.com/watch?v=czCT4XOoMJo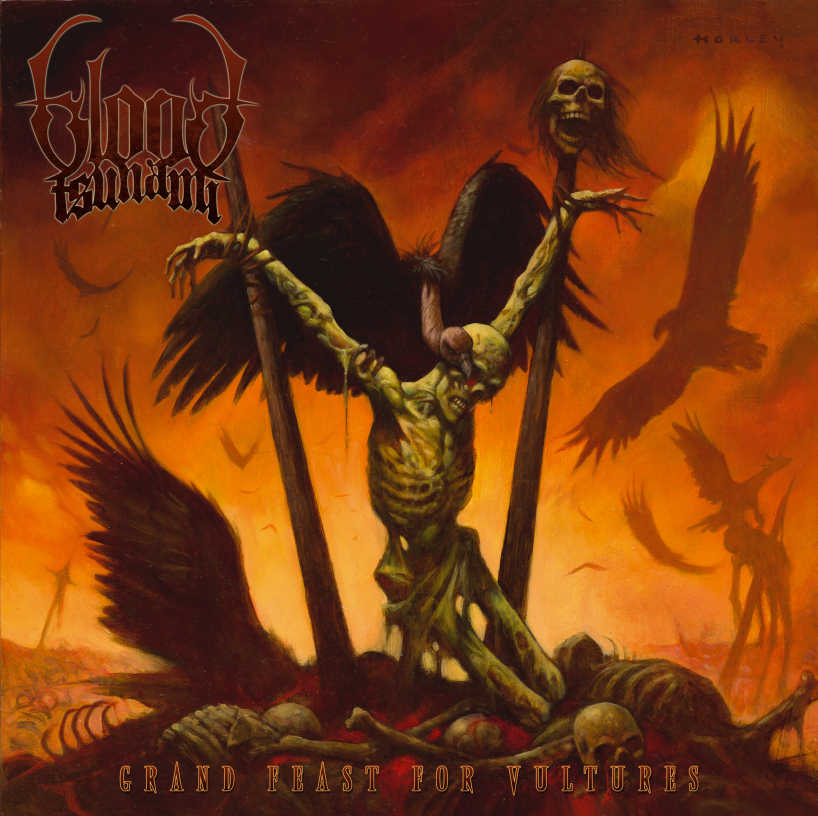 8. Blood Tsunami – Castle Of Skulls (Grand Feast for Vultures, 2009)
Bringing things more up to date, Blood Tsunami's second album 'Grand Feast for Vultures' was grossly underrated. Norway may not be the first place you'd look for Thrash Metal, but 'Castle Of Skulls' sets the bar pretty high. Definitely a band to watch.
http://www.youtube.com/watch?v=kujFWpjoa28
7. Metallica – Creeping Death (Ride The Lightning, 1984)
No Thrash Metal countdown would be complete without Metallica. They may not have managed to breach the top 5, but there were literary a dozen songs that could have made the cut. 'Master of Puppets' may have been the album that propelled the band to super-stardom, and personally I still consider 'St Anger' to be a return to form; but for genuine Thrash Metal classics, you have to look to the first two albums.
Here's footage from this year's 'Big Four' concert in Sofia (complete with Ecstasy of Gold intro): http://www.youtube.com/watch?v=ij3G1fLyYkY
6. Machine Head – Imperium (Through the Ashes of Empires, 2003)
An instantly recognisable intro gives way to plenty of frantic shredding, a blistering array of technical drumming, and Robert Flynn's trademark visceral vocals. 'Aesthetics of Hate' may have become the unofficial tribute to Dimebag Darrell, but 'Imperium' still towers over all of Machine Head's other efforts.
Official video (uncensored): http://www.youtube.com/watch?v=Ys1rRnG6vzM
5. Anthrax – Deathrider (A Fistful of Metal, 1984)
It's easy to forget that this is where it all started (especially for those of us who weren't born yet). 'Deathrider' was the opener of Anthrax's debut album 'A Fistful of Metal', and it still sounds as ferocious as it did when I first heard it around, erm, ten years ago(?).
Official video (2004 re-recording): http://www.youtube.com/watch?v=WCN3uGx–Yg
4. Kreator – Violent Revolution (Violent Revolution, 2001)
Despite (or partly due because) they've brought us a number of ridiculous videos and routinely spout nonsense ('flag of hate' anyone?), Kreator have managed to produce a number of true classics of the Thrash Metal genre. Narrowly edging past 'Enemy of God', 'Violent Revolution' features an infectious riff and (untypical) intelligent lyrics.
Official video: http://www.youtube.com/watch?v=dR7xBj0bDD8

3. Exodus – The Toxic Waltz (Fabulous Disaster, 1988)
By some miracle, Bay Area veterans Exodus are still going (having released 'Exhibit B: The Human Condition' earlier this year). The band has seen countless line-up changes, but still manage to deliver the goods all these years on (with numerous songs, such as 'Downfall', 'Riot Act' and 'Raze', recorded this side of the millennium being worthy of inclusion). But some classics are truly unassailable. Before 'mosh' took over, Exodus brought us 'The Toxic Waltz':
http://www.youtube.com/watch?v=YcfIGok1mMI
2. Slayer – Angel Of Death (Reign in Blood, 1986)
Uncompromising, both musically and lyrically, Slayer have quite rightly come to stand for everything that is violent and aggressive about Thrash Metal. Attracting (somewhat ridiculous) allegations of Nazism, and still censored to this day, 'Angel Of Death' describes the crimes of Auschwitz physician Josef Mengele. Controversial. Intense. Brutal. There is only one Slayer.
Footage once more from the 'Big Four' concert in Sofia: http://www.youtube.com/watch?v=57bcMYV0580
1. Death Angel – Dethroned (Killing Season, 2008)
Rarely do reunited legends manage to recapture the quality that made their name (even if that name was never one that attracted any serious mainstream attention). Even more rarely do they surpass their earlier material. But that's exactly what Death Angel managed on their second post-reunion album, 'Killing Season'. 'The Art of Dying' (2004) had its moments, but it was the release of Dethroned' (the video for which is below) that signaled that Death Angel were ready to take their place amongst the greats. Criminally underrated throughout their career, Death Angel's day may still come.
Official video: http://www.youtube.com/watch?v=pMqukNMF6FI

Phil Henderson